Why building disaster recovery site on the cloud?
Now a days we can see a lot of disasters that can take place which might affect your datacenter, so If you don't a good business continuity and disaster recovery plan, this will affect your critical applications.
Building your disaster recovery site on the cloud is a great option as it:
Provide you GEO redundancy.
You can setup your Infrastructure fast.
Pay for what you use. (You don't pay for virtual machines until they are running)
Let's know more about AZURE Site Recovery to build a disaster recovery site on AZURE.
Architecture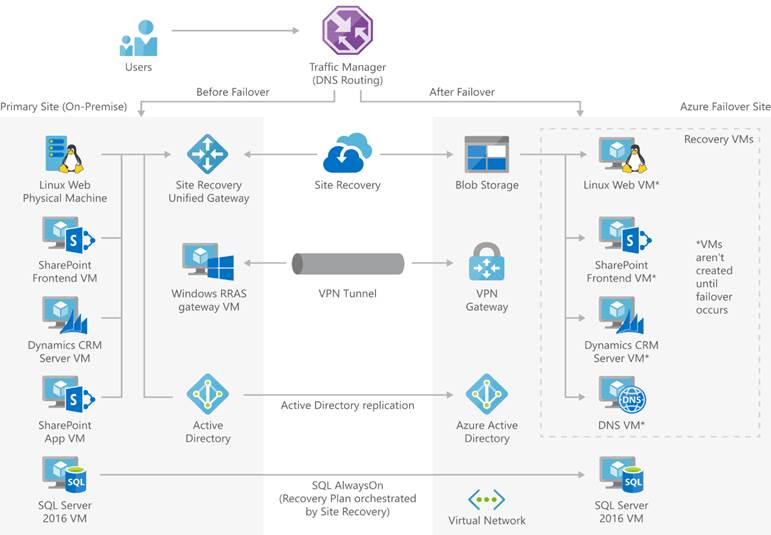 Components
How does Site Recovery do disaster recovery?
After preparing Azure and your on-premises site, you set up and enable replication for your on-premises machines.
Site Recovery orchestrates initial replication of the machine, in accordance with your policy settings.
After the initial replication, Site Recovery replicates delta changes to Azure.
When everything's replicating as expected, you run a disaster recovery drill.

The drill helps ensure that failover will work as expected when a real need arises.
The drill performs a test failover without impacting your production environment.

If an outage occurs, you run a full failover to Azure. You can fail over a single machine, or you can create a recovery plan that fails over multiple machines at the same time.
On failover, Azure VMs are created from the VM data in Managed disks or storage accounts. Users can continue accessing apps and workloads from the Azure VM
When your on-premises site is available again, you fail back from Azure.
After you fail back and are working from your primary site once more, you start replicating on-premises VMs to Azure again.
Implementation Steps
Create new virtual network on AZURE for disaster recovery (256 IP).
Create Site-to-Site VPN tunnel between On-Premises and AZURE Hub network.
Peer the new created virtual network to the Hub virtual network on AZURE.
Extend On-Premises Active Directory to AZURE.
Create new AZURE Recovery Service Vault

Prepare Infrastructure (Setup a new ASR replication appliance).
Enable replication.
Manage recovery plans.

Create and configure AZURE Traffic Manager.
Test failover.
References
https://docs.microsoft.com/en-us/azure/architecture/solution-ideas/articles/disaster-recovery-enterprise-scale-dr
https://azure.microsoft.com/en-us/services/site-recovery/#overview
https://docs.microsoft.com/en-us/azure/site-recovery/vmware-azure-tutorial
https://github.com/MicrosoftDocs/azure-docs/tree/main/articles/site-recovery
https://github.com/MicrosoftDocs/azure-docs/blob/main/articles/site-recovery/vmware-azure-about-disaster-recovery.md
https://docs.microsoft.com/en-us/azure/vpn-gateway/tutorial-site-to-site-portal
https://docs.microsoft.com/en-us/azure/active-directory/hybrid/whatis-azure-ad-connect
https://azure.microsoft.com/en-us/services/traffic-manager/#overview
https://azure.microsoft.com/en-us/pricing/details/traffic-manager/